ᐊᓪᓗᕐᕕᒃᑯᑦ ᐃᓄᒃᑎᑐᑦ ᐅᖃᐅᓯᓕᕆᓂᖓᑦ
Allurvik Inuktitut Services
ᐊᓪᓗᕐᕕᒃᑯᑦ ᐃᓄᒃᑎᑐᑦ ᐅᖃᐅᓯᓕᕆᓂᖓᑦ
ᐃᓕᓐᓂᐊᖅᑎᑦᓯᔨᖃᕆᐊᖃᕈᕕᑦ ᐃᓄᒃᑎᑐᑦ ᐅᖃᕆᐅᖅᓴᓂᕐᒥᒃ ᐃᓕᖅᑯᓯᖓᓐᓂᓪᓗ, ᐃᓄᒃᑎᑑᒍᓐᓇᖅᑐᒥᓪᓘᓐᓃᑦ ᐊᐅᓚᑦᓯᔪᑦᓴᒥᒃ, ᐊᑕᐅᓯᐅᖏᑦᑐᒥᓪᓘᓐᓃᑦ ᐅᖃᖅᑎᐅᒍᓐᓇᖅᑐᒥᒃ ᐱᓂᐊᕐᓂᖃᖅᑎᓪᓗᒍ, ᐅᕝᕙᓗ ᐃᓄᒃᑎᑐᑦ ᐅᖃᐅᓯᖓᓐᓂᒃ ᐃᑲᔪᕈᓐᓇᖅᑐᒥᒃ, ᑖᒃᑯᐊ ᐊᓪᓗᕐᕕᒃᑯᑦ ᐃᑲᔪᕈᓐᓇᖅᐳᑦ ᐱᒃᑯᓇᑦᓯᐊᖅᑐᒥᒃ, ᐃᓕᓐᓂᐊᕈᑎᑦᓴᓂᓪᓗ ᐊᒻᒪᓗ ᑭᐅᔪᓐᓇᑦᓯᐊᕐᓗᑎᒃ ᑐᓴᖅᑕᐅᔾᔮᕋᑎᒃ ᓯᓚᑎᑦᑎᓐᓄᑦ. ᐃᓚᐅᑎᒋᐊᕆᑦ ᑐᑭᓯᒋᐊᒃᑲᓐᓂᕈᑎᑦᓴᓐᓄᑦ.
Whether you need an Instructor for an online Inuktitut language course or require Inuktitut Language Support, Allurvik can help you with quality work, instruction and confidential feedback.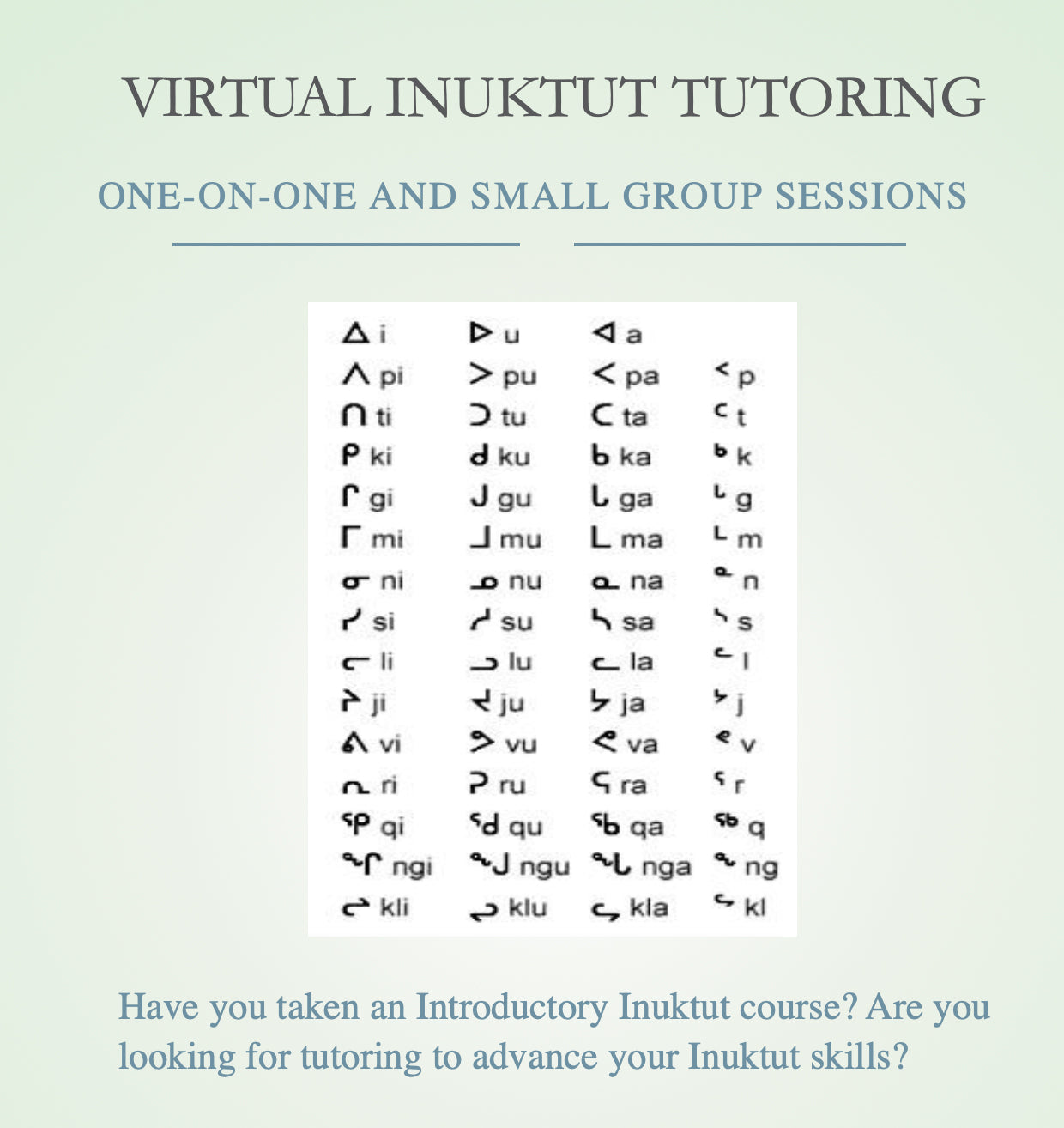 Tutoring is to support you on your Inuktitut journey. Each class will focus on finding out what areas of Inuktitut you need help with and spending time to focus on practicing on those areas. 
Each session is 1hr online only and available for custom bookings on:

Available weekly, evenings and weekends.  
Looking to book multiple sessions?

Bundle includes 6, one-hour sessions in total. 
A booking link will be sent to you via email after your purchase.
There are no official assignment or marks for tutoring. Tutoring is perfect if you prefer one-to-one learning and at a pace that is built to support your needs. 

If you are looking for a group for interaction, assignments and homework, then you will need to wait for our next group class. Please message us if you have any other questions. 
ᐃᓄᒃᑎᑐᑦ ᐃᓕᓐᓂᐊᒐᒃᓴᖅ ᐊᑐᐃᓐᓇᐅᔪᖅ ᓂᐅᕕᕐᓂᐊᕐᓗᓂ. Inuktitut Lesson available for purchase.